Wine Zone Ductless Split Systems
If you're looking for the most economical split system to purchase and install. WineZone Ductless Split are an excellent choice. These WineZone Ductless Split are ideal for rectangular rooms that require less than 15' of "throw". And for wine cellars that are quickly "turned over". Such as those wine cellars with concrete or brick walls and without access to a mechanical room. With either an indoor or outdoor remote condensing unit. Heat and noise from the wine cellar are less making the cooling extremely quiet. The attractive, wall-mount evaporator is under the control of a 24V digital thermostat with a large display. And must be installed by a qualified HVAC technician.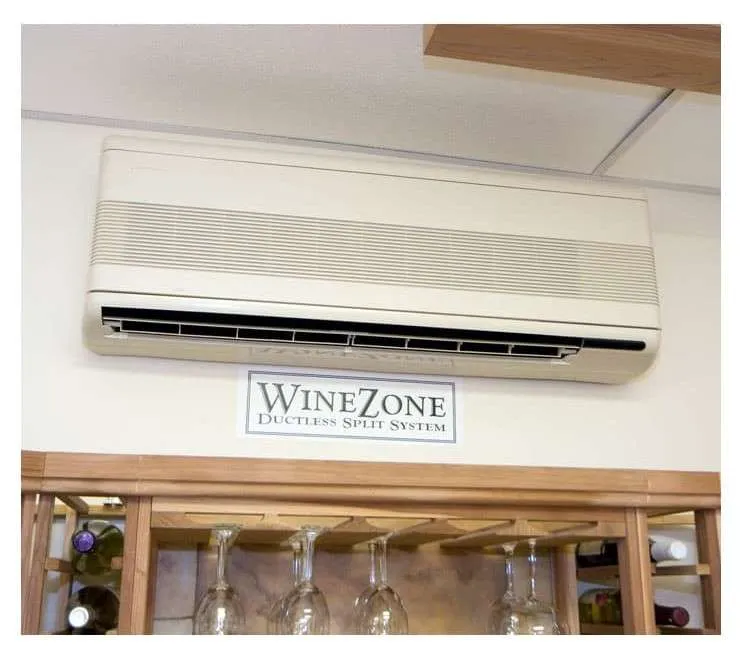 WineZone Ductless Split cooling units are an ideal way to regulate the temperature and humidity of your wine cellar or wine room. Unlike traditional cooling units, Wine Zone cooling units do not require any ductwork for ventilation. This saves installation time and eliminates complex installation costs.  Making these cooling units increasingly popular among wine collectors worldwide.
Wine Zone cooling systems come with numerous convenient features such as electronic thermostats, digital screens. Displaying the current temperature and humidity level, and an audible alarm that can be programmed to alert you in case of any deviations from the ideal level. Some even have automatic defrost settings to minimize user maintenance. The wine cellar cooling unit operates quietly, without any constant buzzing sound, making it ideal for noise-sensitive environments.
The state of the art Wine Zone Cooling units are an excellent option to consider for your wine collection. It allows you to store your wine in the proper environment, without the need for outside ventilation. Ensuring that your wine ages perfectly. They offer installation flexibility, convenience, and freedom, making them a popular choice among wine collectors. Browse our selection to find the best option to suit your lifestyle. And if you have any questions, please give us a call. 800-323-3130