Description
The VintageView Bottle Magnum Wine Rack is available in two different finishes, as well as single deep, and double deep storage options.  These champagne wine racks are designed to hold standard – sized magnum and champagne sized wine bottles. Each wine rack contains 1 base (heel) strip, 1 neck strip, end caps on wall strip, 1 connector for stacking, mounting hole covers and soft plastic rod tips.  These wine racks are designed to be attached to a wall or can be displayed floor to ceiling when a Floor to Ceiling Frame is purchased (available separately).  Mounting assembly required. Bottle retention straps available but sold separately.
Label front wine racks
Two different depth variations – Single Deep & Double Deep
Four different finish options – Black, Black Pearl, Platinum, and Chrome
Wall mounted or Floor To Ceiling (floating look) mounting
VintageView is the next generation in metal wine racks. With our label forward design you don't just store your wine, you display them like art.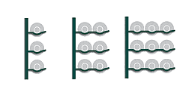 One of the main things we like focus on at Cool Wine Cellar is creating fascinating custom wine cellars that go beyond simple wine racks.
Stunning wine cellar doors, custom wine cellar lighting, and beautiful wood shelves are just some of the great items that allow us to create a space for you to store, display and above all, enjoy your wine collection with family and friends. Traditional wood wine cellars, glass and steel wine cellars, contemporary wine cellars, tasting centers and custom wine cellar cabinetry are some of the fantastic options we can provide to our clients.
Additional Information