Ultra- Showcase Cascading Row – Black
MAXIMUM VIEW OF WINE LABEL
Our stylish Cascading Row creates a waterfall effect & staggers the bottles for a view at all wine labels on the floating wine rack.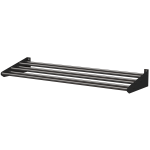 MODERN, SLEEK AESTHETIC
Naturally modern, incorporating a sheen-less matte black finish that is both scratch and mar resistant.
DESIGNED FOR STABILITY
Designed to hold wine bottles securely in place and allows your favorite wine label to be viewed optimally.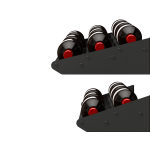 TWO DEPTH OPTIONS
The Cascading Row is designed to hold 6-9 bottles depending on the depth of your row. We call this "double-deep", and "triple-deep."
DYNAMIC MOUNTING OPTIONS
The Cascading Row can be mounted to a variety of surfaces utilizing multiple strategically placed mounting locations to ensure your wine collection is safe, secure, and stylish.