Description
Features:
Solid wood with no stain/finish (unless specified in order)
Holds up to champagne size 750ml bottles
Display row to show wine labels
Available in 5 wood species
Choice of 6 different stain/finishing options available
*Stain images are approximate and may appear different on different screens. If you are concerned about the final color, please contact us for a sample
Details:
Use alone or on top of a Base Rack
Racking is shipped partially assembled
Attach horizontal spacer bars to complete assembly
All individual bottle racks are designed to be assembled with a nailgun, using either 18 gauge 1 1/2″ brad nails or similar finishing nail. Nails are not included. We offer pre-drilled spacer bars for assembly with screws if preferred.
We recommend racks be attached to wall for safety (hardware for attaching to walls not included)
Product Assembly Instructions
Prestige Series Individual Bottle Upper Cabinet Assembly Instructions
All of the Prestige Series Upper Cabinet Wine Racks for Individual Bottle Storage are assembled in the same manner. You will attach horizontal "Spacer Bars" to the front and back of the rack at the top and bottom. Our instructions cover all sizes and include a parts list for how many pieces should be included in the size of rack that you have chosen.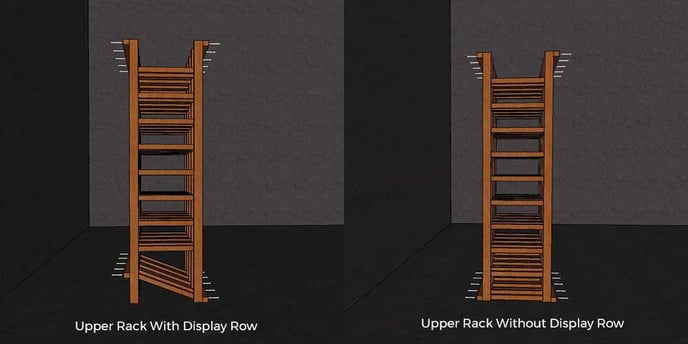 Standard 750ml Bottle Upper Racks

Assembly Instructions for all 8 1/4″ High 750ml Individual Bottle Upper Racks

Assembly Instructions for all 12″ High 750ml Individual Bottle Upper Racks

Assembly Instructions for all 15 3/4″ High 750ml Individual Bottle Upper Racks

Assembly Instructions for all 19 1/2″ High 750ml Individual Bottle Upper Racks

Assembly Instructions for all 23 1/4″ High 750ml Individual Bottle Upper Racks

Assembly Instructions for all 27″ High 750ml Individual Bottle Upper Racks

Assembly Instructions for all 30 3/4″ High 750ml Individual Bottle Upper Racks

Assembly Instructions for all 34 1/2″ High 750ml Individual Bottle Upper Racks

Assembly Instructions for all 38 1/4″ High 750ml Individual Bottle Upper Racks without Display Row

Assembly Instructions for all 38 1/4″ High 750ml Individual Bottle Upper Racks with Display Row

Assembly Instructions for all 42″ High 750ml Individual Bottle Upper Racks without Display Row

Assembly Instructions for all 42″ High 750ml Individual Bottle Upper Racks with Display Row
Double Deep Upper Racks

Assembly Instructions for all 15 3/4″ High Double Deep Individual Bottle Upper Racks

Assembly Instructions for all 27″ High Double Deep Individual Bottle Upper Racks

Assembly Instructions for all 38 1/4″ High Double Deep Individual Bottle Upper Racks
Magnum (1.5L) Bottle Upper Racks

Assembly Instructions for all 38 1/4″ High 1.5L Magnum Individual Bottle Upper Racks without Display Row
Waterfall Upper Rack

Assembly Instructions for the Waterfall Individual Bottle Upper Rack
Curved Corner Rack

Assembly Instructions for the Curved Corner Individual Bottle Upper Rack